Sterling Silver
Our exquisite Double Band Huggies add a touch of elegance to any look. Embellished with a double band of sparkling cubic zirconia, these classic crystal hoops provide a luxurious, eye-catching shine that will instantly upgrade your style. Perfect for adding volume to your ear stack.
✧ 18k Gold-Plated 925 Sterling Silver

✧ White & Navy crystals
✧ Huggie diameter : 10mm
Gold: 18k gold-plated sterling silver
Silver: Rhodium plated sterling silver
100% Nickel Free
Free Tracked 48 hour delivery on UK orders over £30
Free Tracked delivery International orders over $100
Shipped same day Mon-Fri
Earrings are non-returnable due to hygiene reasons
925 Sterling Silver
These are hypoallergenic and antimicrobial. Our jewelry labeled as sterling silver is crafted from rhodium-plated sterling silver or gold-plated sterling silver.  While silver can tarnish, a simple remedy is using a soft jewelry cloth to wipe off the tarnish.
The inherent flexibility of silver means sometimes they can get bent out of shape in shipping. Here's how you can easily keep them in perfect shape:
For the prevention of tarnishing, it's advisable to store your jewelry in an airtight container when it's not being worn.
While it's totally safe to wear sterling silver to the beach & the gym, if you sweat, the metal may darken as a reaction to the sulphur in sweat. So you may want to take it off beforehand.
Cleaning Instructions:
Prepare a paste by mixing baking soda with water.

Apply the paste to your jewelry and gently clean it using a cloth.

Wipe the jewelry clean and allow it to air dry. 
Stainless Steel
This selection is not only affordable but also resistant to tarnishing and rust. If you're seeking both durability and affordability, our stainless steel jewelry is an ideal choice. PVD Gold Plated Stainless Steel Jewelry usually retains its quality for 1 to 10 years, while pure stainless steel jewelry can last a lifetime.
General Tips:
- Exposure to extreme heat, air, and moisture may accelerate oxidation and tarnishing of your jewelry. To safeguard against this, it's advised to store your pieces in a cool, dry, and dark environment, preferably within an airtight container.
- Prevent scratches and chain tangles by storing each item separately in its original packaging.
- Avoid contact with cosmetics, chlorine, soap, and other chemicals, as they can lead to tarnishing. 
- To prevent the accumulation of soapy residue that dulls precious metals, it's advisable not to wear jewelry while bathing or showering.
 Should you encounter any issues with your purchase or order, please don't hesitate to contact us. We're here to assist you!
Other materials
At Smoothie London, our dedication to excellence and reasonable prices is unwavering. That's precisely why we've bid farewell to brass and copper. These materials just don't measure up in terms of lasting strength. Our goal is to empower you to proudly showcase your jewelry day in and day out, and express your personality. To achieve this, we've embraced sterling silver and stainless steel – two materials that demand less fuss, all while being kind to your skin.
🍊HYPOALLERGENIC
Skin friendly, crafted from high quality materials & always nickel free
🍋3 MONTH WARRANTY
Any issues in 90 days? You'll get a replacement no questions asked
🍓FIGHTING PERIOD POVERTY
A percentage of sales are donated to provide reusable period poverty to refugees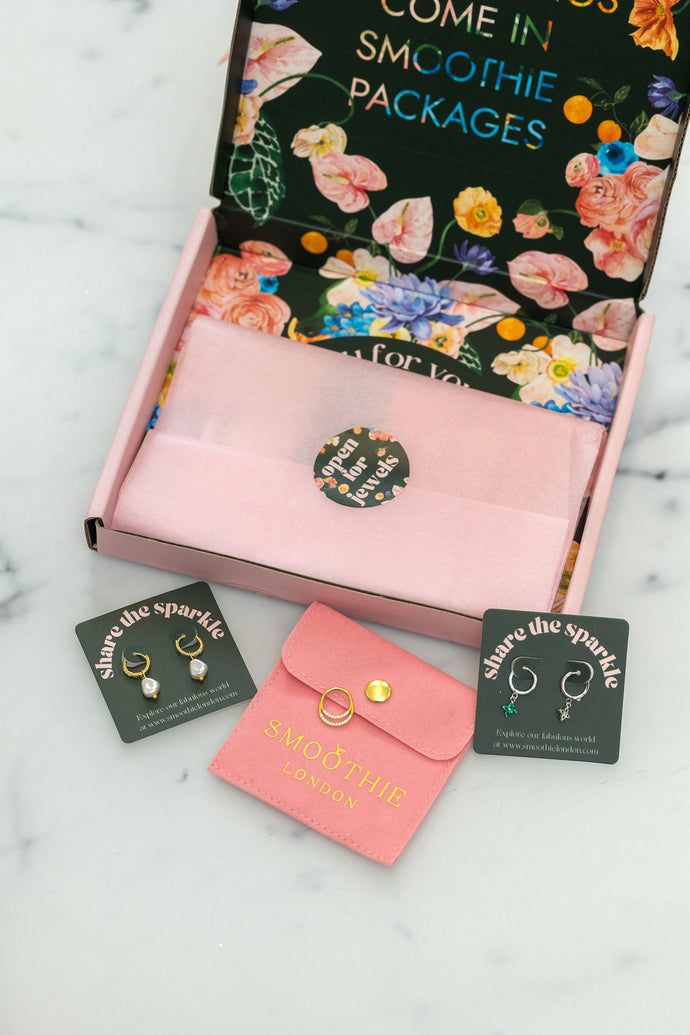 complimentary
Letterbox gift-packing
Every order comes gift packaged in our beautiful boxes, complete with tissue paper and an embossed travel pouch (1 per order).
If you need more pink pouches please add a note at checkout 💗
Completely free!
F.A.Q.s
questions we get all the time - great minds think alike
Are your Everyday Ear Party Sets enough for both ears?

The sets include 3 earrings total, so you may want to buy 2 if you want to wear a set on each ear (but we love to spread ours over both ears as well!)
Can I make changes to my order after it's been placed?

We do everything we can to fulfill orders quickly and unfortunately cannot make updates after an order has been placed. These changes include removing or adding products and/or changing the delivery address.
What payment methods can I use?

We offer payment methods including major providers like Mastercard, Visa, PayPal, American Express and AfterPay.
Do you ship to my country?

We ship to most countries so the answer is probably 'yes' but you can check the full list here 
You're a smoothie company right?

Um, no. But Joe & The Juice if you're reading this and want a collab we wouldn't say no 😉
Recently viewed products
Describe your recently viewed products here