Jewellery gift guide for your Mum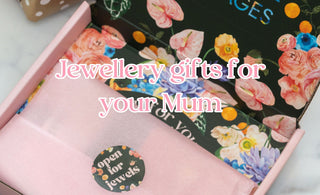 Looking for the perfect jewellery gift for Mum?
Well, you're in luck! We've got you covered with our ultimate jewellery gift guide for Mum. Whether it's Christmas, Mother's Day, or just a special occasion to show her how much you care, these dazzling pieces are sure to make her sparkle!
Everyday Hoops: Statement and stylish!
Every mum needs a pair of everyday hoops that she can wear with any outfit. Our collection of hoops is designed to add a touch of elegance to her everyday look. From classic gold hoops to trendy silver hoops, we have a variety of styles to choose from. These hoops are lightweight, comfortable, and perfect for any occasion. Mum will love how they effortlessly elevate her style!
Athena hoops - £27                              Sundancer hoops - £25
Party Favourites: Let's get the party started!
Is your mum the life of the party? Then she needs some statement jewellery to match her vibrant personality! Our party favourites collection features bold and eye-catching pieces that are sure to turn heads. From dazzling hoops to glamorous chandelier earrings, these pieces are perfect for those special nights out. Mum will feel like a true queen when she's wearing these show-stopping accessories!
Million Kisses Hoops                                      L'amour heart hoops
Necklaces & Dainty Diamonds: Because Mum deserves the best!
When it comes to necklaces, we believe that less is more. Our collection of dainty necklaces is designed to add a touch of elegance to Mum's neckline. From delicate pendants to minimalist chains, these necklaces are perfect for everyday wear or for layering with other pieces.
Venice coin necklace                                     Lucky Charm Necklace
And if you really want to spoil Mum, our dainty diamante collection is the way to go. These sparkling diamonds are the epitome of luxury and will make Mum feel like a million bucks!
Serenissma Huggies                                     North Star Huggies
So there you have it, our jewellery gift guide for Mum. Whether you choose everyday hoops, party favourites, or dainty diamonds, these gifts are sure to make Mum feel special. And remember, the best gift you can give Mum is your love and appreciation. Happy shopping!